Tena is a small city that skirts the Amazon region in Ecuador. For $6 per person, it took three hours by bus to get to Tena from Baños. When we arrived at the terminal we walked through town to Hostel Austria which was moderately priced at $23 and did not include AC.  It was however very clean and convienently located.
Initially, we were underwhelmed with Tena. We are walking around town at 3:00 pm and nothing was open. The one thing we wanted to do was go on a hike in the jungle, but every tour shop we found was closed. We were so disappointed we decided we were going to leave the next day. Trying to find something to do shouldn't be this hard. That night Tim went out to get something to eat (my stomach was still not 100%) and he found a tour company that was open! Long story short we ended up getting what we wanted – a trip into the Amazon jungle.
The tour cost $55 each and lasted from 9 am to 4:30 pm. No one else signed up so Tim and I got a private tour! The trip started outside of Misahualli where our guide peacefully paddled us in a handmade canoe through a small canal to our hiking spot. We saw a couple of spider monkeys and beautiful birds.
We donned our boots and hit the trail. Our guide, Javier, showed us different plants including the plant of which they make Panama hats. He made us headbands out of it. He also used a flower bud to make me fake nails which helped me channel my inner tiger. We found a termite nest, Javier picked at it to make them come out of their nest and then put my hand on it so they crawled on me. If you rub your hands together and smash them they release a menthol scent that can be used as a natural bug repellant.
We returned to Misahualli for lunch and had a traditional fish dinner wrapped in banana leaves and yuca, which is like a potato. After lunch we walked to the river and saw a troop of monkeys. It was entertaining to watch them easily swing from the tree branches, curiously gazing down at us.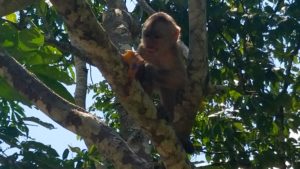 We then caught a bus to a go on a waterfall hike. Our guide allowed a couple other travelers to follow us to the waterfall so they wouldn't get lost. It was a hot, slippery hike but we were well rewarded in the end with a glorious swim in the waterfall.
After the trip Javier took us out for celebratory drinks where we met Abby. Abby is a local that told us about a white water rafting festival going on that weekend called Jondachi Fest, named after the Jondachi River. She said that there was a registration party that night and invited us to come, at least for the free pizza. Needless to say we showed up and registered for the overnight rafting trip for Saturday. Abby said they were looking for volunteers to help out with the race on Friday so Tim and I volunteered.
We got up early the next day which started with free breakfast. We rode with Abby to the race finish line where we carried boxes of empanadas down a steep, slippery trail (did I mention that all the trails in Tena are slippery??) It was physically very hard for me and also mentally challenging as I had to keep smelling the delicious empanadas without getting to eat any. After the race we hiked back up the steep trail and got a free lunch. (Volunteering is awesome!)
The next day was the overnight kayaking/rafting trip. The class of the rapids ranged from 3 to 4+. The trip was only $55 a person and included our own private tent, lunch, dinner and breakfast the next day.  We camped at Playa Selva resort. It is in a remote location that you either hike to or arrive by the river. The scenery was absolutely beautiful the entire trip. We learned that the purpose of Jondachi Fest is fighting the government from damming the river. It would be sad if they dammed it because it is quite beautiful and provides so much life to the forest.
All in all our trip to Tena was a success thanks to Jondachi Fest. We saw a side of the Amazon we never would have seen before and are so thankful for how everything played out with running into Abby and having the opportunity to volunteer.