Where can you be invited to a wedding, chili cookoff and a full moon party and homage to burning man celebration on the beach in one week? Well none other than a little black speck on the map called Los Zacatitos. It is about 8 miles down the east cape from San Jose del Cabo. We would of never even considered traveling here if it wasn't for making friends along the way down Baja. While attending happy hour at Cielito Lindo in San Quintin a few weeks back, we met Barbara. Barbara lives half of the year in Los Zacatitos and the other in Oregon. Most of the community only lives here seasonally, escaping the sweltering heat of the summer that begins in April/May. We met up with Barb at the only restaurant in town, Zac's (great food, but wifi not so great). She gave us a tour of town and helped us find a spot by the beach to camp. Like many other rural towns/communities in Baja, there are no paved roads, no street lights or signs for that matter.
Just like Cabo Pulmo, we found a free site right on the beach. We didn't have any cell or internet service, but we did entertain daily burro visits. A mama and baby came to our camp everyday. The baby was cute, furry and loved to be pet. Swimming can be dangerous in some places because of the jagged rocks and the strong tide. However at low tide you can swim in a natural pool formed by the rocks. We made this a daily experience for us.
The full moon party on the beach started with the locals coming together during the day to build the burning man with wood salvaged from various sources. Everyone brought food, we all hung out on the beach, ate and took pictures with the burning man. Everyone was allowed to write down a wish and place it in a mermaid pinata to be burned along with the man. At moonrise, simultaneous with the sunset, the burning commenced. Afterwards we went to another party down the east cape road at another beach, called Shipwreck Beach. There was a DJ, lights, and many hula hoops of all kind of shapes and sizes. It was funny to watch Tim hula hooping in the laser light show with trance music in the background.
We decided to drive to the wedding that was held in the arroyo on the way to what the locals call the "community beach". On the way there, our truck got stuck in the soft sand in the middle of the freakin road. We love El Oso, but damn it if we don't need a four wheel drive. Anyways, usually I would freak out and get all pissed off. However I knew that it would only be a couple minutes before someone would come along and save us. "No worries amigo", he said as he drove the large bronco around our truck dug about a foot into the sand. Like one of the professional Nascar crew, Tim had the tow strap out and hooked up. We were pulled out in like five minutes. We thought that we were going to be late with the truck shenanigans but literally as soon as we walked up and set the cooler down, the exchanges were made and we witnessed the first husband and wife kiss. There was a Mexican caterer making fresh fish and shrimp tacos, all the wedding guests brought food and there was a huge trough of cold beer and wine for the guests. Various musicians performed, even the groom, and we once again danced through the night, barefoot in the sand.
Because we were so close to popular and chic Cabo San Lucas we drove to visit one day. It is your typical tourist trap town but we had to visit, I guess. We walked around the marina and were hawked by the waterfront restaurant vendors and tour boats. Tim read about a trail you can hike to get to Lover's beach instead of taking the tour boat, but you have to go through hotel property. So we walked and walked and walked. Finally when we made it, the hotel guard didn't allow us to pass saying that it was too dangerous to go to the beach. We thought it was BS at the time. However when we made it back to the marina to take a tour boat the captain confirmed Lover's beach was closed due to dangerous waves. We didn't get to see the famed beach of Baja, so I can't say it is the best beach. If I could do it over, I would take tour boat. We did however drive to Medano Beach which was nice.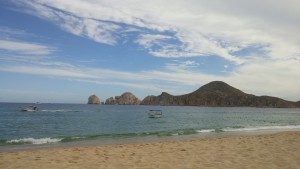 San Jose del Cabo has a "Zona Hotelera" (aka tourist trap zone, aka zone that Americans can brave walking around Mexico without the fear of getting raped or murdered or burned alive) as well. There is an art walk every Thursday evening. I definitely recommend checking out the historic downtown area followed by beer and live music at Baja Brewing Company.
We spent our last night in Los Zacatitos at Neil's, who hosted the annual chili cook off at his million dollar home situated on a bluff overlooking the community beach. Again everyone brought some food to snack on in addition to the 8 contestants in the chili cookoff. The winners were selected by a panel of 3 judges and ended up being Mark and Lianne, 3 years in a row of winning (one year coming in second). Unfortunately our resistance to leave the party led us to having to ride our bikes in the disorienting darkness. Both of us ended up falling off our bikes on the way home. Now we know why everyone drives around here. Thus it probably goes without saying I highly suggest NOT riding a bike at dark, especially after attending the annual chili cookoff.
One of the cool things about Los Zacatitos is how the entire community hangs out together, regardless of income status. Everyone brings a little something if they can and gets along like one big happy family. Mostly everyone we met was friendly and welcoming. It was a little emotional for me to leave here. It isn't everywhere we travel that we become one with the community so easily. Los Zacatitios will always have a special place in my heart.