From Mui Ne we bought our bus tickets from a travel agent conveniently located down the ally from our hotel.  The tickets were 100,000 VMD each (about $4.50). It was our first time in a sleeper bus.  The ride was fairly comfortable and went by fast.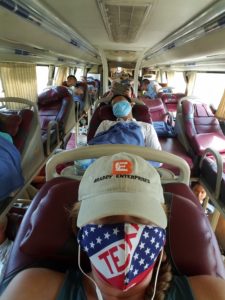 Five hours later we were dropped off in Nha Trang.  We knew we were in serious tourist territory on the way to our hotel with many white faces, mostly Russian, flooding the streets.  After checking out a couple different hotels, we decided on the Sunny Sea Hotel.  It's nestled down a quiet ally only one block away from the beach.  They quoted $20/night but came down to $18/night after we said we had to look around a bit.  We had a balcony which overlooked the ally. We don't usually like to stay in the tourist zone because of the inflated prices on food but it didn't take long for us to find where the locals hang out.  From the hotel it's only a 10 min walk to the street, Nguyen Thi Minh Khai, where you will find lots of cheap eats.
All the reviews about the beach in Nha Trang were true, it's spectacular.  Despite all the tourism the beach is kept pretty clean for Vietnamese standards. The water is clear, the sand is white, the waves were calm so swimming was great as well.  The only problem was the hawkers who pace up and down the beach trying to sell you everything from artwork to corn on the cob.  I recommend renting beach chairs from the Louasiane Brewhouse for $40,000 ($1.80) where you also have access to a nice pool and showers.  Another perk I liked about renting chairs from the brewhouse is how the hawkers can't come up to your chairs while on the beach.  They will however yell at you from outside the "no solicitation" zone.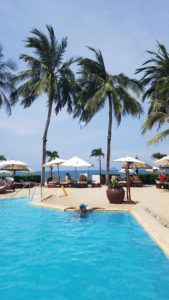 Another thing Nha Trang is known for is it's night life and party atmosphere.  To be honest I can't really say if it this is true because we didn't go out after 10 p.m.  During the day we didn't see anything but families and couples. Maybe the partiers all come out later.  We were however told four different times to be careful with our bags on the beach.  Apparently, Nha Trang is also known for its bag snatchers and pick pockets.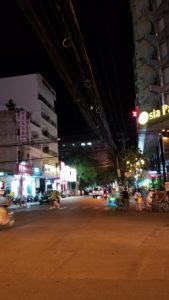 After three nights we were ready for a slower pace.  We took the local bus (number 3) to Doc Let beach, about an hour and a half north of Nha Trang and only costs 24,000 VMD each ($1).  Accommodations are quite slim here, especially when arriving on a Saturday so plan accordingly.  I highly recommend staying at Paradise Resort.  It's a mile walk down the beach from where the bus drops you off. An aircon room for two that includes all 3 meals was $60 a night.  Those who know us know how cheap we are so $60 a night is a lot to us. BUT… We were literally right on the beach.  I was a little worried about the all-inclusive meal deal but all the meals exceeded my expectations.  Lunch and dinner ranged from 3-4 courses. They also had beer and coke which are less than a dollar a piece.
To me Doc Let was more enjoyable than Nha Trang where you can't go five seconds without hearing the honk of an automobile or being hawked for sunglasses or motorbike rentals every five minutes. I would definitely return to Paradise resort.  After three very enjoyable nights, we walked back down the beach to the bus stop and took the local bus to Ninh Hoa where we waited for another bus to pick us up to continue our journey north to Qui Nhon.