From Vung Tau we had originally wanted to travel to the Con Dao islands, a chain of unspoiled islands with the best diving in Vietnam. There are two ways to get there, the ferry from Vung Tau for $10 or a flight from Ho Chi Minh City for $80, both one way. Of course we decided we'd take the ferry. Unfortunately after roaming around on a tandem bike for a few hours to find the office(GPS coordinates for the ferry office/terminal to save others the hassle 10.413820, 107.128352) to buy tickets we were informed that it was too rough to make the crossing. We called the English-speaking lady at the office the next two days with no luck either(To save you even having to go to the termianl call Ms. Hoa at 0982 890097). Oh well, maybe we'll get there on the way back.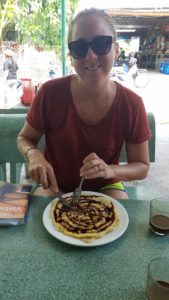 So we decided to continue onto Mui Ne. There was some debate online about where the bus station was and when or if busses ran to Mui Ne. They do at 5am and 1pm for 100,000 dong ($4.50) and the station was easy to find(10.3502991, 107.0873626). The ride was around four hours on a nice bus with AC, free WiFi, and a place to charge your phone at every seat.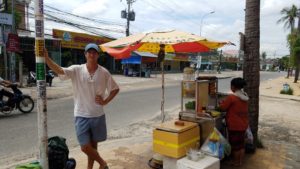 When we arrived we were approached by a lady who offered her guesthouse(Nhat Phuc, I'll leave the pronunciation up to you lol) to us for the night for $10. It was a nice clean room across the street from the beach but was dark as the only window was covered. We took it and then had dinner at her beach front restaurant, a fantastic meal of spring rolls, fresh salad, sautéed spinach and vegetables, and a whole fire roasted fish smothered in chili and lemon grass, all for about $12 (and only that much because the retaurant was beach front).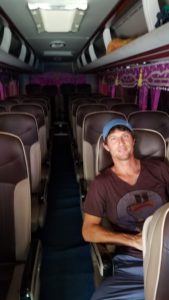 The next morning we decided we wanted to move since it was gloomy and if we were going to be trapped indoors we wanted a room with a view. So we moved to Viet's Hotel, a much nice place, in a better location in town and near the nicer part of the beach(I hear the sand shifts so that may not always be the case), and a killer view from the top of a hill, all for the same price.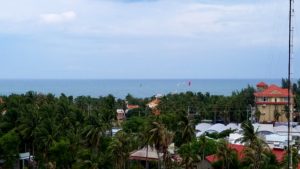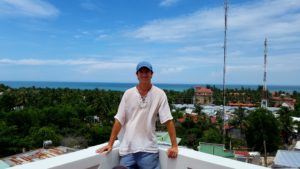 We continued to eat good, more ban mi, more pho, more Chao, but also other random delicious dishes fried pork, sweet and sour pork, noodles and beef, all good, all different. (We also splurged on some American burgers, fries, and wings one night, our most expensive meal so far but at least it was done right.) All of this was available cheap on the same street(tiny alley) that our new hotel was on.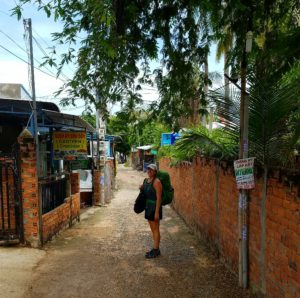 The next day we rented a motorbike for the day from our hotel, $3 and went to checkout the sights. Now technically your supposed to get a license to drive a motorbike in Vietnam (an onerous process and an international drivers license does NOT count) but in practice no one cares. We went to see the famous red and white dunes outside of Mui Ne (way overrated but the ride was awesome). We both loved riding the motorbike. In fact I liked it so much I kind of wish we had bought a bike, you can get them for $200 here.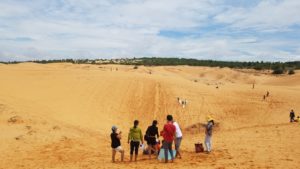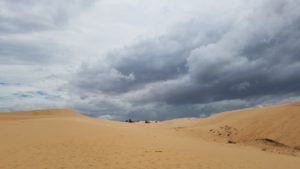 Unfortunately between the white dunes and the red dunes there were police pulling people over, we had heard that usually they leave the tourists alone. However that wasn't the case here they were pulling over literally everyone, locals and tourists alike and charging them with real and fictitious infractions alike. I was originally told they were going to impound the bike for a week and then I'd have to pay an 800,000 to 1,200,000 ($35 to $45) dong fine plus the cost of renting the bike during that time not to mention having to stay there for a week. An obvious shakedown. So I said how about I just pay now, he said 1,000,000 dong, I said ok, and he said your good to drive around here for a week.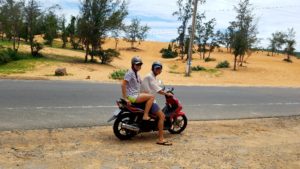 Our little motorbike journey ended being pretty expensive after that…… Come to find out that it is very uncommon for tourists to be pulled over…. Except in Mui Ne. Apparently the local police are pretty corrupt and this is a common practice for them. In fact they had the same thing going on in the same place when we left. They even pulled over our sleeper bus! We still plan to do more motorbiking.
After that debacle we decided to ride into Mui Ne proper, a small fishing village just north of the tourist areas on the beach. We were foiled again by literal monsoon rains (the reason the boat to Con Dao wasn't running was because of a tropical depression hanging out in the South China Sea). We waited at a little while for it to die down a bit and then we made the ride home in the rain, it was exciting if not very pleasant.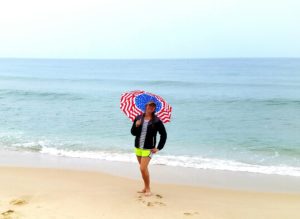 The next day Victoria woke up with a cold, she blames the cops, I think maybe the rain did it. Anyways we took it easy after that. The next stop of the journey, the tourist mecca of Nha Trang!