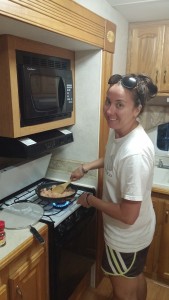 Location: Hanna Park Jacksonville, FL
Tim and I have tent camped at Hanna Park before, however this is the first time we have come here with a 31 foot behemoth in tow. In fact, as many of you already know this is our first of many nights we will be living, breathing, cooking, showering, number one-ing and two-ing in the RV. Which is why we decided to camp a couple nights in Jacksonville- to test out all the systems before leaving town.
It didn't take long for us to make our first mistake. Driving down the shaded forest road to park at our site we quickly realized we had drove down the wrong row. It was geometrically impossible for us to maneuver our rig into the diagonal site. When we backed the rig up to correct, her ass went right into the bushes. I felt a slight panic come over me as I had no clue how to instruct Tim. It was at that moment two friendly neighbors came to our rescue. The veteran rv-er knew exactly how Tim needed to turn to get us out of the bushes, the other held the foliage away from the RV. I was impressed, hoping that we would one day acquire such sagacity. After getting out of the bush we repeated the process down the correct row with success. Instant relief. Next time, we will ask the park ranger the best way to approach the site.
So far everything is functional. Nothing broke on the drive here (knock on wood). Everything inside is clean and organized. The AC is blowing nicely and not too loud. I highly recommend the juice for the toilet (will post more on this in the future). Wish us luck, as we embark for Blackwater State Forest on Monday!
Click on picture below to load gallery! Inside and outside shots of the RV!