Puerto Lopez is a small, fairly quiet fishing town.  The only touristy part of town is along the malecon which is a very nice area to walk around or chill at one of the beach side bars. Many tourists from all over the world and Ecuadorians themselves come here to go Isla la Plata, known as the poor man's Galapagos, and Los Frailes which many times has been voted the best beach in Ecuador.
We stayed at Hostal Yemaya which costs $30/night for two people.  It's in a great location one block from the beach. Miguel runs the hostal and is very informative. Miguel set us up with Aventura tours for our day trip to Isla la Plata.  It only costs $35 each (hence why it's the poor man's Galapagos) and includes hiking, lunch and snorkeling.
One of the guys from the tour company met us at our hotel at a chill time of 9:30 am.  Before getting on the boat, we walked down the beach with the rest of the people in our group to check out the fisherman's catch of the day.  We watched the men carry coolers full of fish from the boats to trucks parked right at the shore while the frigate birds desperately try to sneak a fish from the coolers.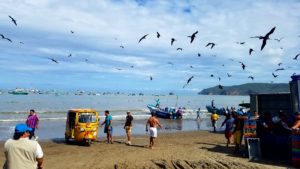 We were the last boat to leave the dock but our tour guide assured us that we would be the first boat to arrive on the island.  He was right, it didn't take long for our awesome boat to leave the others in the dust, or mist rather.  On the way to the island we saw the biggest pod of dolphins I've ever seen.  There had to be hundreds of them.  We also saw jumping stingrays too.
Within an hour we made it to our destination. As we approached, hundreds of frigate birds were circling high above the rocky cliffs of the island.  They look like pterodactyls gliding through the air.  We stopped at a fisherman's boat because he was feeding fish to a bunch of sea turtles.  Again I've never seen so many sea turtles in one spot.  As you can see, we are already very impressed with Isla la Plata and thinking we already got our money's worth.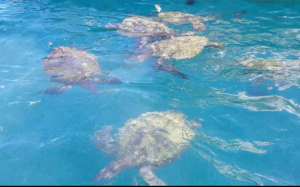 Our tour guide took us on a short 3 km hike where we saw the famous blue footed boobies.  There were many babies hiding in the scrub brush waiting on mom and dad to bring them food.  We had to be careful not to scare them.  They can't fly and their wings are so fragile that if you get too close they can freak out and break their wings getting them stuck in the brush.  It seems like that is easy to understand but I was shocked by how so many stupid people in our group still wanted to stop right in front of the baby and take its picture.  In fact this is why one of the trails was closed off.  The Albatross used to frequent the island but quit coming because of too many dumbass people taking selfies with them.  The trail is closed because a family of Albatross is back and the islanders want to keep it that way!
After an underwelming but included lunch of tuna sandwiches on hot dog buns, we went snorkeling at a nearby reef.  We saw angelfish, parrot fish, needle fish, puffer fish and many other beautiful species of which I don't know.  I was so impressed with all the animals we got to see.  If the po man's Galapagos was this awesome I imagine the real Galapagos Islands would blow your mind.
The next day we went to check out the many times voted best beach in Ecuador, Los Frailes. From town we took a mototaxi to the bus terminal and then a bus to the Los Frailes for 50 cents each.  It's free to get in but because it's part of the national park, you need your passport number to get in.  Since I don't usually take my passport to the beach and I don't have it memorized (which I probably should) I just pretended to look at something on my phone while I made up a number.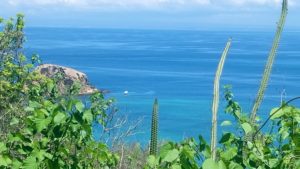 Once you make it through the gate you have two choices: pay a mototaxi to take you straight to the beach or hike the trails where you will come across two other beaches and a mirador or viewpoint of Los Frailes.  The choice was obvious for Tim (I was feeling lazy and wanted to go straight to the beach) and so we took to the trails.  I'm so glad I listened to him because it was absolutely amazing.
It was realllllly hot but there was a constant cool sea breeze which made it bearable.  We stopped at the first beach and went for a swim.  At the second beach the rip currents were too strong to swim so we stood on the rocks and ate Doritos. In a little less than two hours we made it to Los Frailes.  I can see why it's voted the beast beach with its surrounding mountains, wide, white sand, and trash free (rare in developing countries). The water had a clean blue tint to it and was easy for swimming.  At 4 pm the beach closes down and a van is waiting to take people back to Puerto Lopez for $2.50 per person.
Puerto Lopez is a must if you visit Ecuador.  It has so much to offer and beautiful sights to see.