Vilcabamba is situated in a valley surrounded by lush green mountains. Many of the locals in the area live to be 100 years old and up, hence the name.  It's not surprising that there has been an influx of wellness and yoga-mongers to the area.  When you step off the bus at the terminal, the town feels Ecuadorian enough.  But the European hippie vibe grows stronger the further you venture towards the main square.  Vegan friendly and spiritual cleansing ads a-plenty with English as the predominant spoken language.
We stayed at Hostal Margaritas for $30 a night. The hostal was cleaned daily, had (real) hot showers and included breakfast. What attracted us to the area was the hiking. There are many trails within a short drive as well as the Podocarpus National Park.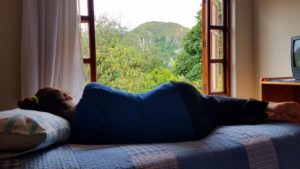 We hiked the Mandango trail, named after the sheer cliff rock formation that stands out amongst all the greenery.  We were able to walk to the trail head, situated down a dirt road behind the bus station, from our hotel.  Make sure you bring a stick with you as there was a section along the dirt road that had a bunch of aggressive dogs. Tim picked up a rock and pretended to throw it at them which made them back off.  The entire trail is not for the faint of heart as there are steep drop offs on either side of a narrow ridge trail.  We were unable to make it to the top because of Tim's vertigo with heights, but we were able to get to an awesome viewpoint that provided spectacular views of the valley.
Another great place to do some hiking is from Hostal Izhcayluma, located a couple of kilometers south of town. We initially wanted to stay at this hostal but they were fully booked.  We took a cab to the hostal from the bus station for $1.50. The receptionist gave us a map of a trail and pointed us in the right direction. It was free.  There are many trails to choose from and they are well marked so you don't need a guide.
It was a little out of the way for us to come here but I think it was worth it.  Vilcabamba provided some great hiking and was our last trip in the mountains. We are now heading to the coast, the Pacific is calling my name!