So the saying goes bad things come in three right?  Well we had a couple…  On the day we tried to leave Luang Prabang we had some motor bike issues.  First thing that happened about 30 miles out was a flat tire.  Well no big deal, we just passed a tire shop like 100 feet away. We pushed the bike there and had the inner tube replaced in ten minutes.  Just a bump, well nail actually, in the road.  It happens, no big deal, keep going!  Five minutes later we're cruising and then ::record screach:: the bike just stops.  We walk the 300 lb bike up and down hills for a mile in a half until we find a mechanic.  He completely dissassembes the bike and unclogs the gas line and all this stuff.  After 3 hours of hanging out, watching chickens and huffing second hand smoke and gasoline we decided we were going to call it a day.  Obvioulsy the gods didn't want us to go to Vang Vieng today.  We started back to Luang Prabang.  On the way back, I'm not kidding you, I can't make this up,  we got another flat tire, in the EXACT same spot we got the first one.  It was so coincidential that I couldn't control my anger.  I screamed "WTF!!!" As Tim pushed the bike to the SAME shop where we had the tire replaced before, I paced up and down the street looking for nails or other "evidence" of materials.  After the inner tube was replaced, again, I said "Thank you! Now that you have enough of our money please stop throwing nails in the road so we can get the hell out of here tomorrow!"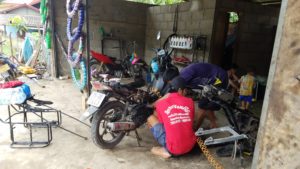 So that is three bad things right? Well I think the flat tires counted as one because the next day we had a motorbike accident.  Half way to Vang Vieng, we were making a turn at about 30 mph and some how ended up eating pavement.  Luckily neither of us sustained serious injury, but I can now say I know why knee pads were invented.  My right knee ended up taking most of the hit. For Tim, it was his left hip and feet.  Luckily I was wearing shoes, whereas "sandals man" wasn't.  Lying on the hot concrete with the sun in my eyes and the pain in my knee all I could think about was how I hope I didn't break something.  I was scared to move.  Thats when two vans came around the corner.  I don't know if my grandma was watching over us or what but two angels approached us.  She opened up a medical kit, showed me a bottle of something, probably an anestetic, I can't read Laotian.  I wimpered "Are you sure?" and she replied, "Yes, I'm a nurse." I let her go to work on me.  She cleaned all our wounds and bandaged them.  I couldn't believe how lucky we were to have sustained no serious injury and two nurses (angels) appeared out of no where to help us.  I don't know their names but I will never, ever forget them.  I know I would of done the same thing.  Maybe it was a good deed coming back to me for all the awesome nursing I've done.
Even though we were hurting, we got back on the motorbike and continued the ride.  We passed by one of the most beautful mountain ranges I've ever seen. The landscape was green and beauftil as it had been but the mountains in the background were jagged and sinster looking.  Like Mordor from the Lord of the Rings. As we got closer to Vang Vieng we saw clouds coming in right above us.   They encompassed the mountains around us like a macrophage.  It was so bizarre since we weren't at high elevation (only 800 feet).
We hobbled into the Malany Villa hotel (120,000 kip/night or $15) when we got to Vang Vieng, ususally we look around but after today, no.  Thank goodness the room was on the first floor.  For the entire time we were in Vang Vieng, it rained. So even if we hadn't been whiplashed and road rashed we couldn't have done anything anyhow.  We spend most of our time in the room, eating take out. It was a little dispressing so for entertainment purpose we decided to hit up some of the happy bars! Obviously we would never partake in the happy items, but they were there!  You can choose from all kind of stuff, including but not limited to: marijuana, magic mushrooms, opium, and laughing gas.  The laughing gas was very popular with the young ones.  They kept buying and huffing away.   We watched, laughed, we were basically happy as the bar intended one way or another.
Apparently it used to be pretty open to do stuff like that here, kind of like Woodstock.  Po-lice look da other way.  Then after a few travelers killed themselves by being too messed up and drowning in the river, the government had to tighten up.  Now they have under cover police and they look for people to shake down. Some bars are pretty open and some aren't.  I think it depends on who pays the police and who doesn't.
Vang Vieng looks like a an old western town.  All it needs are some horses and a few wooden swing doors It's kinda dirty and grungy, but in a good way. One of the fun things to do around here is to go tubing down the Nam Song River.  With all the rain the river was too flooded and the current was pretty fast.  I didn't think it would be a good idea to submerge our flesh wounds in the river water or be in a situation that required strenght (like swimming aganist the current) so we passed.
Sooo I guess eventually good luck runs out and bad things happen.  It's ok, we are ok, we will be OK as long as we have our health and can continue on this amazing vacation.